1. What is difference Ema and Kami-Ema…?
Ema=絵馬 literally means "picture horse".
General "Ema" is a wooden board shich people write your wish on.
And people hang it in the shrine. You can see it in any shrines in Japan.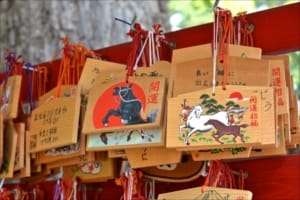 General Ema
"Kami-Ema" is something that is handed down to Hida Takayama.
A picture of a horse is drawn on washi paper,
and it is displayed on the entrance of shops, restaurants, houses in Takayama city and Hida district.
It is like a lucky item in Hida!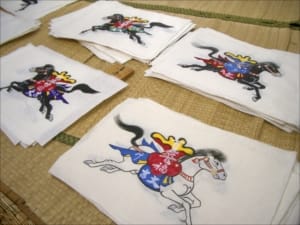 kami-ema


There are two type of horse design, left facing and right facing,
because it need to decorate the entrance as if a horse were "running in" from the outside.(See above photo!)
If you want to write your name or company name ,they can write in it.



2. Where & When we can buy it?
Ema-ichi (Ema marcket) is held in every summer.
in Yamazakura shrine, Matsukura-kannon Shrine, Sogenzi Temple and shops.



written by K's House Takayama Team
---
HEADING TO TAKAYAMA SOMETIME SOON?
CHECK OUT K'S HOUSE HOSTELS IN TAKAYAMA
K's House Takayama K's House Takayama Oasis
---

You might be interested in
Beautiful Walking Trails in Takayama