Why don't you try delicous unique local cuisine in Takayama?
Enjoy and find your favorite Takayama local food !

1. Hida Beef (飛騨牛)
Hida beef is the locally raised beef of the Hida area.
The marbled meat is tender and gives sweetness to its taste.
See 10 Best Ways to Eat Hida Beef for more details.
2. Hoba Miso (朴葉味噌)
Vegetables and mushrooms grilled with miso paste (soy bean paste) on Japanese magnolia leaves. Best eaten with Hida beef.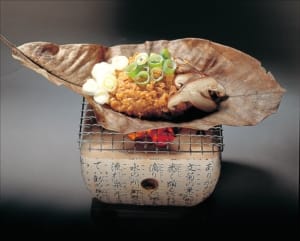 3.Midarashi Dango (みだらし団子)
Ball shaped rice cakes with soy sauce skewered on a stick. Takayama's Midarashi Dango has a savory taste. It is a common snack for the locals.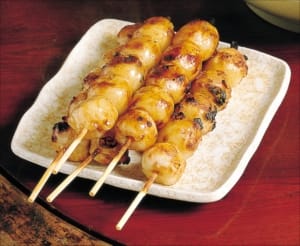 4. Takayama Ramen (高山ラーメン/中華そば)
Takayama Ramen is a soy sauce flavored thin frizzled noodles. Commonly served with leek, seasoned bamboo shoots and roasted pork fillet.



5. Sake (酒)
There are 7 Sake breweries in the old town. Each breweries brews their own unique Sake. Enjoy our local sake!
Check out Sake Brewery Hopping in Takayama !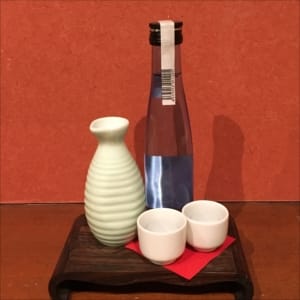 6. Pickle (漬物)
Red turnip pickle is the most famous pickle in Takayama. Tsukemono steak, stir-fried pickle with egg and flavored with soy sauce or miso, is a popular local dish in Takayama.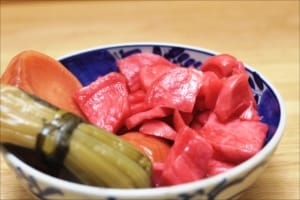 written by K's House Takayama Team
---
HEADING TO TAKAYAMA SOMETIME SOON?
CHECK OUT K'S HOUSE HOSTELS IN TAKAYAMA
K's House Takayama K's House Takayama Oasis
---

You might be interested in
Read All Articles from
HERE
!